Diagnostic and Imaging
Our diagnostic and imaging is made up of highly technology equipment and medical professionals who deeply value your health and well being. We take great pride in providing you with high quality, patient-centric care and health education. Whether you are in need of imaging procedures, interventional or therapeutic procedures, our professionals are prepared to deliver comprehensively in a variety of different medical areas with the state-of-the-art equipment and experienced team of radiologists we have.
Magnetic Resonance Imaging (MRI 1.5 TESLA)
Our Vantage Elan 1.5 Tesla MRI system will provide high quality imaging in a very compact system to improve the patient's overall experience. It prioritizes intelligent workflow, patient comfort and is able to provide a complete clinical image for diagnosis and scanning purposes while providing a great experience in every step along the way.
Unlike other conventional MRI imaging equipment, our MRI comprises pianissimo zen technology. This enables our patients to undergo a peaceful and comfortable MRI imaging.
Our MRI system benefits our patients with the following procedures:
Neuro Imaging including for a diagnosis of brain tumor and stroke imaging.

Spine Imaging including for neck and back pain, prolapsed disc and spine tumor.

Musculoskeletal Imaging including for knee sport injury and shoulder injury.

Vascular Imaging including artery vessel stenosis in brain and neck, abdomen and kidney artery and venous in head.

Body Imaging including for liver metastases, kidney and pancreatic tumor, uterus tumor and prostate tumor.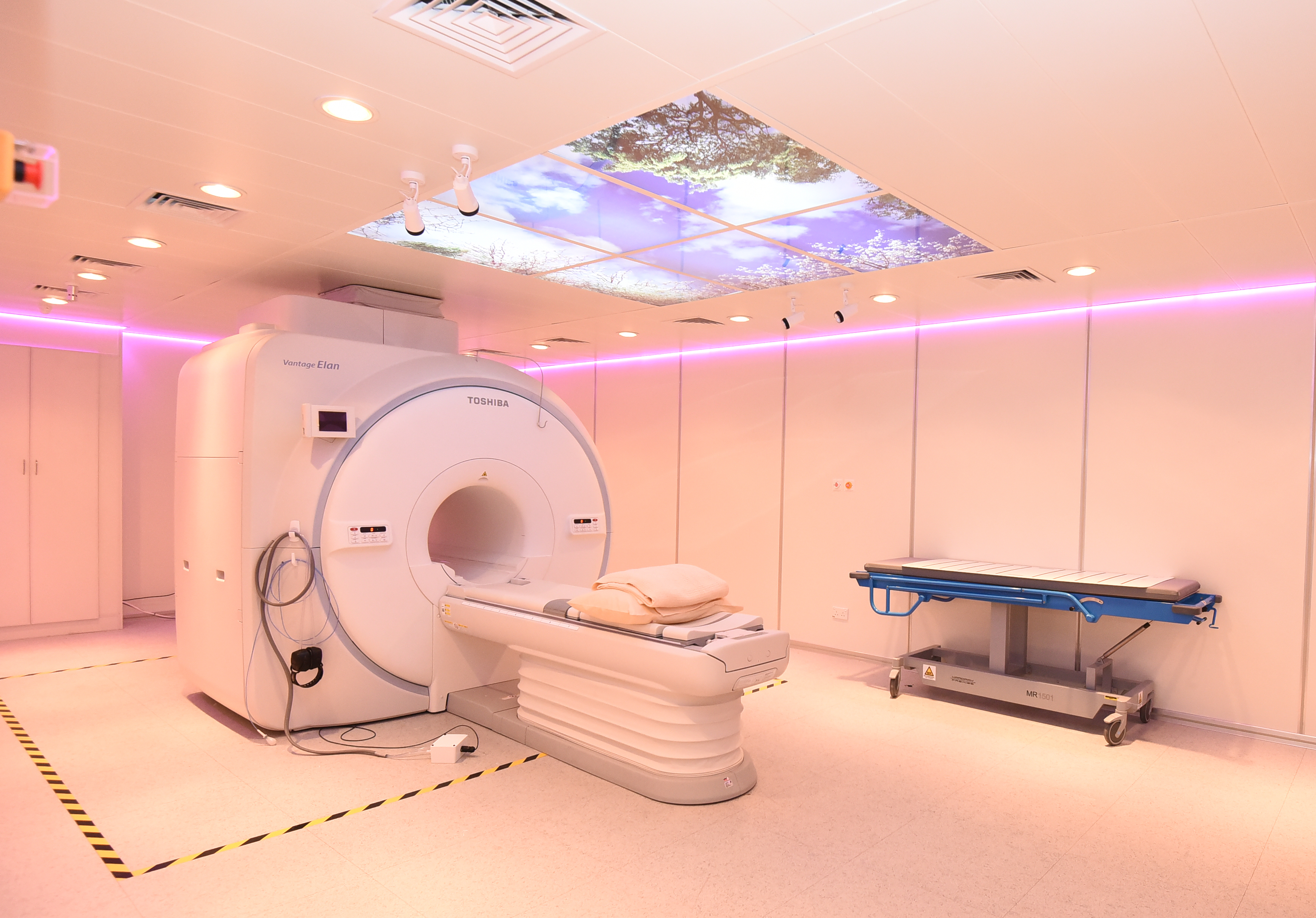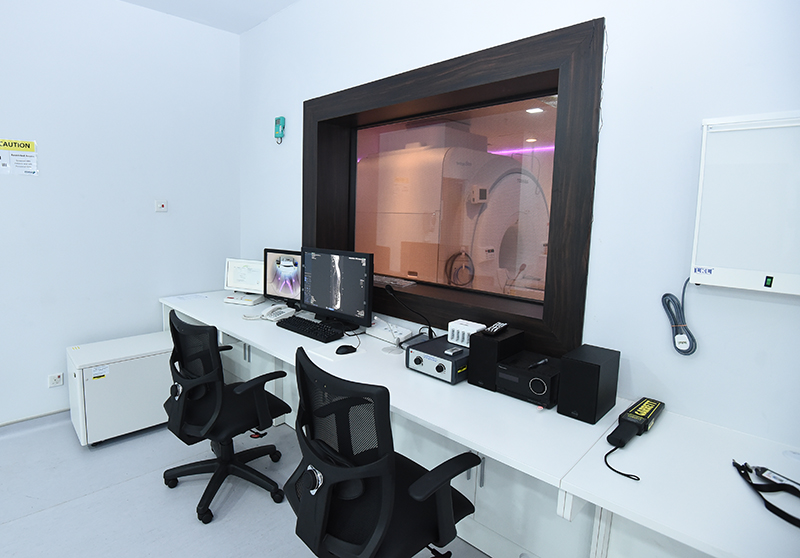 Computer Tomography (CT) Scan (CT SCAN 160 SLICE)
CT scans is a special X-ray test that conveys cross-sectional pictures of the body utilizing X-ray and a PC.
Our Aquillion PRIME CT scan has the ability to provide you with an optimal comfort during examination as it has an automated dose reduction capability. This ensures that patients receive high quality care safely as CT scans are noninvasive, well-tolerated and protected.
Our CT scan is able to deliver as follows:
Neuro CT Imaging including for brain and head trauma and stroke.

CT Angiography including cardiac vessels, abdominal vessels and lower limb vessels.

Body Imaging CT including CT Abdomen and Pelvis, CT Multiphase Liver, Pancreas and Kidney.

Musculoskeletal Imaging CT including for knee and shoulder trauma.

Pediatric CT Imaging including for head imaging with lower and minimum radiation dose but optimal image quality.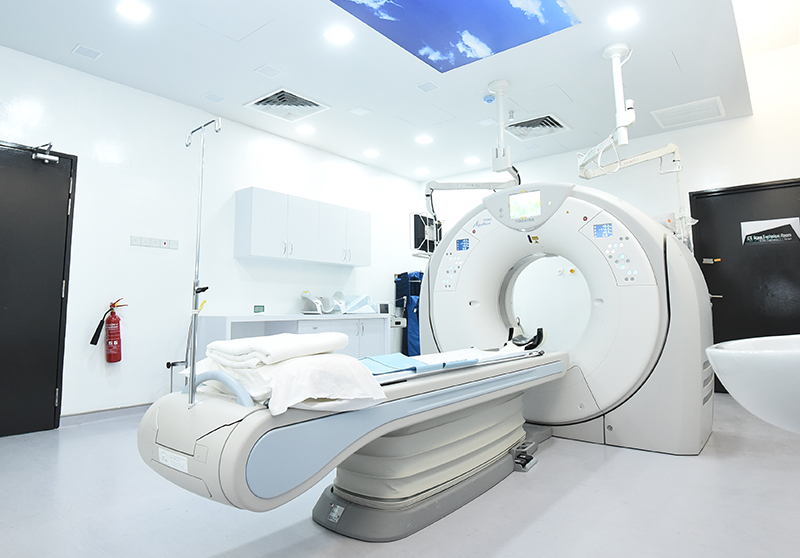 Digital C-arm in Operation Theatre
A mobile C-arm is a specialized equipment with radiographic capabilities that connects X-ray source and X-ray detector, used primarily in a variety of fluoroscopic intraoperative imaging during surgical, orthopaedic and emergency procedures in Operation Theatre. It also helps in visualizing kidney drainage, abdominal and thoracic aortic aneurysm repair, percutaneous valve replacements, cardiac surgery, vascular surgery, gastroenterology, neuro stimulation, orthopaedic, pain management and neurology procedures.
Digital Fluoroscopy
Fluoroscopy is known as a kind of medical imaging that investigates moving structures on a TV-like monitor. During the examination, the x-ray beam passes through our patient's body and the beam then will be transmitted to the monitor to be seen in detail. The purpose of fluoroscopy as an imaging tool is to empower physicians to examine body systems including, skeletal, digestive, respiratory, urinary and reproductive systems.
As an equipment for gastro-intestinal study, Hysterosalpingography and ERCP, our fluoroscopy is able to provide an excellent quality of images with lower radiation exposures to the patient. With MSU Medical Centre's professional team, we are prepared to guide our patients and their families through each progression of the procedure.
The benefit from fluoroscopy system includes
Barium study for small and large bowel assessment

Hysterosalpingography procedures for assessment of reproductive system in female patient

Endoscopic Retrograde Cholangiopancreatography (ERCP) procedure for gallstone removal

Micturating Cystogram (MCU) for pediatric patient in assessment of bladder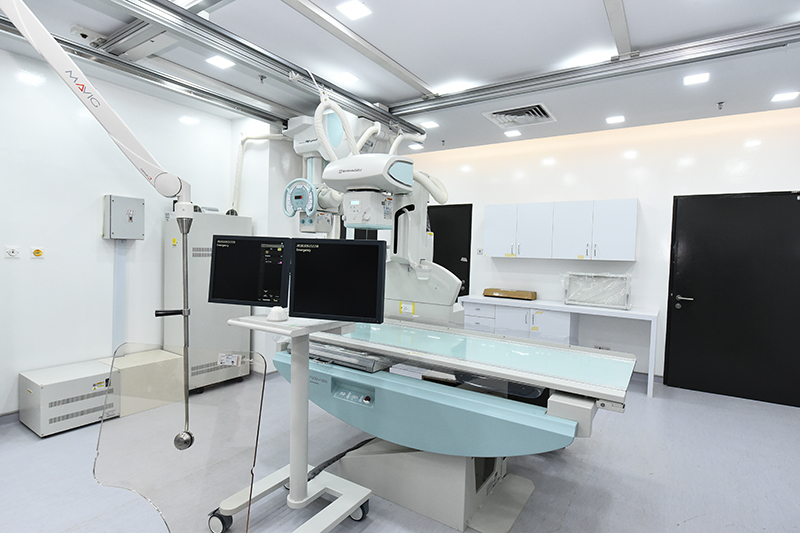 Digital Mammography
Digital mammography is a common equipment used for screening anything irregular that is related to breast cancer, especially to women aged 40 years old and above. Even though a mammogram is a low dosage of x-ray beam, it can still reveal both harmless and cancerous growths at the time of screening.
With good working ergonomics and high performances, we are able to provide our patients with comfort breast imaging and less compression pain, which will be done by our dedicated and well-trained female radiographers. Our equipment is equipped with tomosynthesis technology that is competent to provide a high resolution of breast imaging with details of lesion within breast tissues while not needing patients to be exposed to high doses of radiation. Furthermore, our radiologist is able to perform precise biopsy procedures with its high-precision stereotactic biopsy system.
Due to the advantages of our medical equipment, we can ensure that the outcome of the treatment and images is always at the best and patients can do the screenings at ease.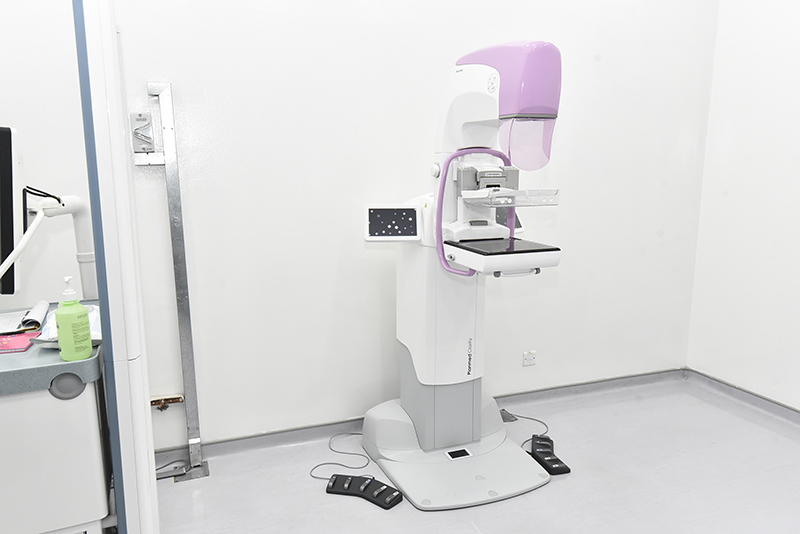 Digital Radiography
Digital radiography system is a form of x-ray imaging whereby it uses active matrix flat panels which allows the image to be converted to digital data in real-time within seconds.
Our digital radiography is equipped with superior s-detector, s-vue and s-align imaging technologies, which gives an outcome of an outstanding image for diagnosis purposes.
At MSU Medical Centre, we also provide a general x-ray procedure and services from head to toe for in-patient and out-patient, as well as our emergency patients.
The benefit of our digital radiography system includes:
X-ray of chest for tuberculosis screening or any lung pathology or trauma in chest region.

X-ray of skull for trauma patient.

X-ray of musculoskeletal for post traumatic events.

X-ray of one-off whole spine in spondylosis assessment.

X-ray of one-off lower limb for lower limb assessment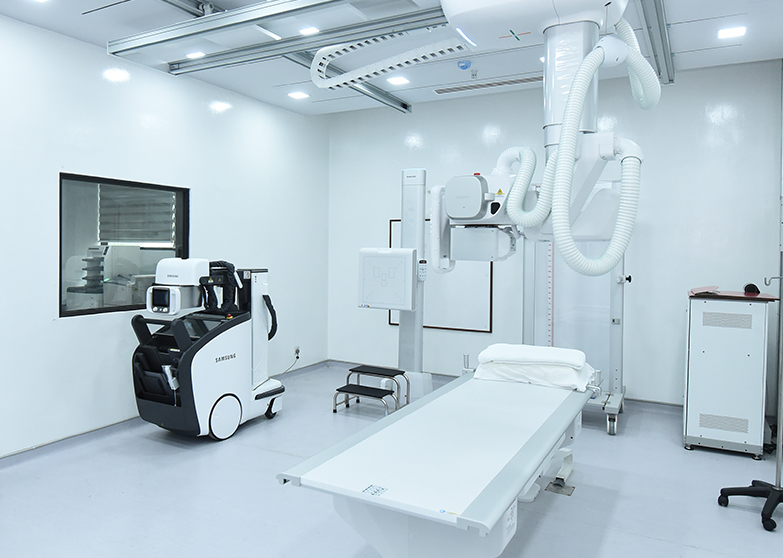 Ultrasound
Our high-end ultrasound equipment is equipped with an extensive range of ultrasound procedures, which will be done by our consultant radiologist. Our radiologist is able to perform an accurate diagnosis for our patient as the equipment provides better quality of images contrasted to other ultrasound machines.
The benefits of our ultrasound include:
Ultrasound of abdominal, specifically for liver, kidney and pancreatic pathology including kidney stones, liver metastases or pancreatic tumor.

Ultrasound of pelvis especially for bladder stone, prostate gland enlargement and uterus or ovarian cyst or tumor.

Ultrasound of breast for women below 40 years old.

Ultrasound of neck for thyroid assessment.

Ultrasound of Doppler for blood flow assessment in neck and lower limbs.